Abhijit's Sketchnotes No 9
... because we remember pictures, not text
Welcome to the 9th Edition of my Monday Mailer - a weekly compilation of ideas turned into visuals. Get it in your mailbox by adding your email here.
We are in the age when being able to understand emotions is going to be the common factor that successful people have. It used to be, that being sharp in analytical thinking used to be the basis of successful careers. But now problems have become so complex that the age of the lone genius is gone. It is the age of experience makers. I have spoken about Experience Makers which is a hot new trend. The job market is delinking skills from jobs. How do you succeed in that setting? Maybe you have to imagine yourself to be a Digital Nomad. But first, the lead story is about the Future of Mobility.
The Future of Mobility
On 1st January 2020, would you have believed that the world will produce 7.5 million fewer vehicles in 2020? Or that Public-transit ridership will drop by 70 to 90 percent in major cities across the world? Or that automakers and suppliers will lay off workers worldwide in their factories? That is already happening. These are structural shifts and much of the swing is likely to stay even after people start to use public transportation? Will this lead to more innovation? McKinsey has this study you could read
Even if electric vehicles become the norm, the ability of the large automobile manufacturers to adapt their entire factory and the dealership to the new opportunities will be limited. Suddenly the power structure in the organization changed in favor of electrical engineers who had been playing second fiddle to the mechanical engineers. Have you observed something similar in your firm? Leave a comment.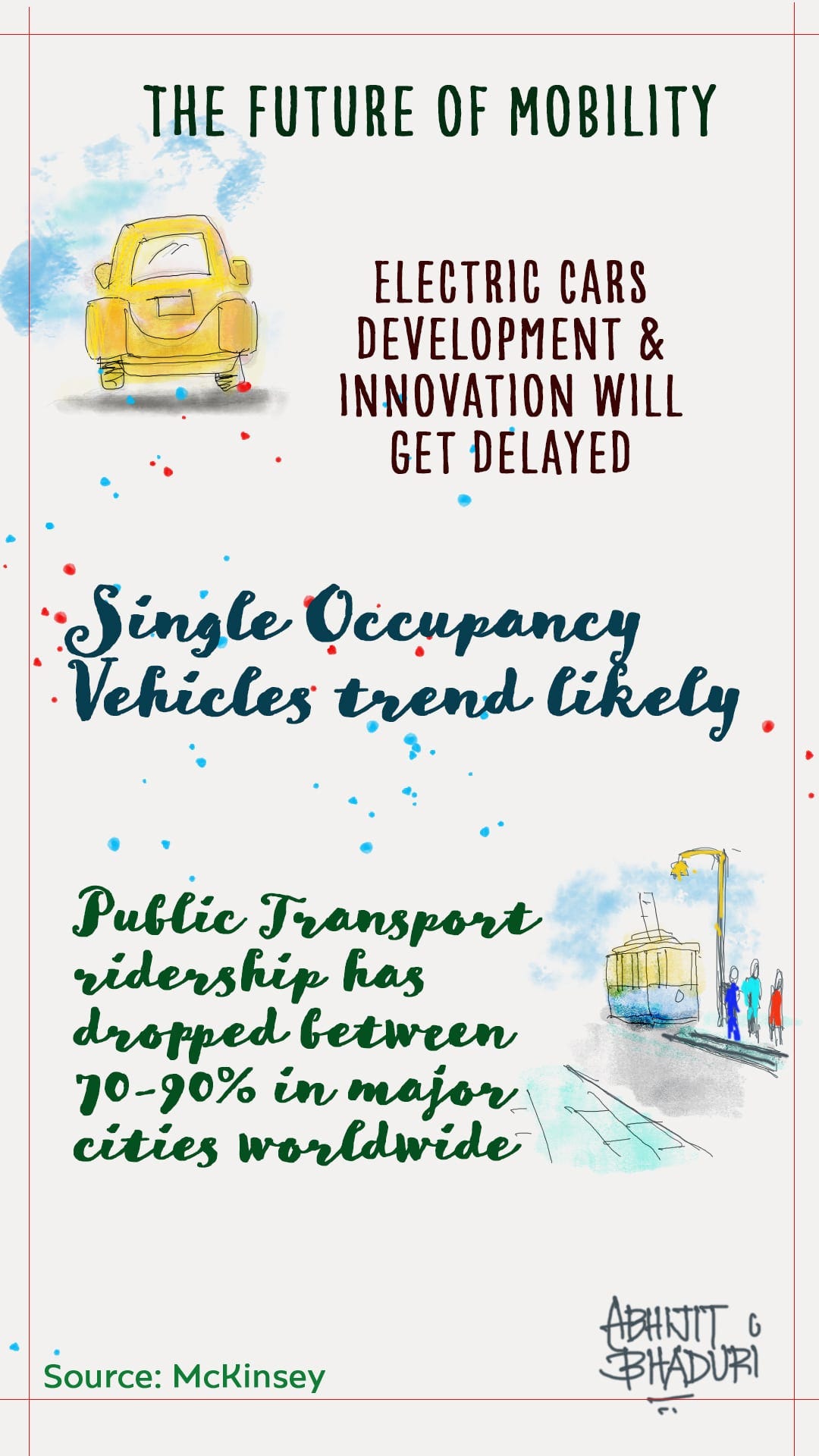 2. Rules of the Job Game
Reader's Digest asked me to write about what is changing in the job market for their July 2020 issue. The editor, Sanghamitra Chakraborty's question to me was simple. "What should I do now?" I feel a special sense of pride in being asked to write for RD - a magazine that I have fond memories of. The old issues were never discarded. Did you read Reader's Digest as a kid? Leave a comment.
Think skills, not jobs : Hiring across sectors will be muted for a while, but there is a high demand for several cutting-edge skills in every sector, especially tech. If you have been impacted by the recent slowdown, stop waiting for another job to replace the one you lost. Think of your skills and who can benefit from them. Talking to a career coach can help you identify possibilities. Recraft your LinkedIn profile to appeal to those employers. Read why this is the golden age to be a freelancer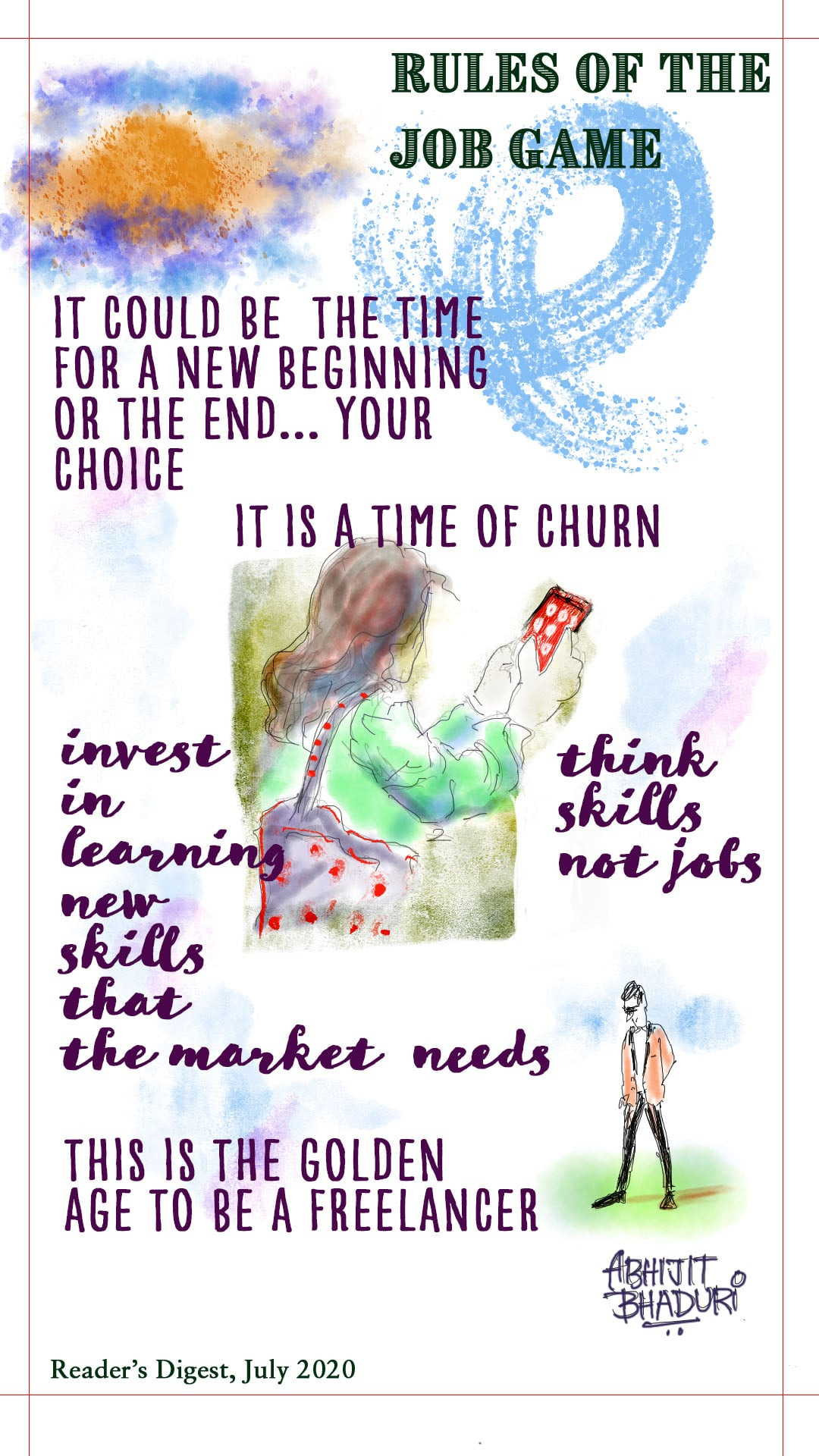 3. Digital Nomads
Her belongings all fit into a suitcase. Her computer and camera fit into her backpack. She doesn't have a home. She is a Digital Nomad. Read this
Shivya Nath's first book The Shooting Star was a bestseller. Her work has been published by BBC, Huffington Post, National Geographic and several newspapers. Shivya's work is available on Instagram (@Shivya). She tells me, "4 years ago, I gave up my home, sold most of my possessions and embraced a nomadic life. This journey has taken me as far within as with my feet." How is she coping with the lockdown? Find out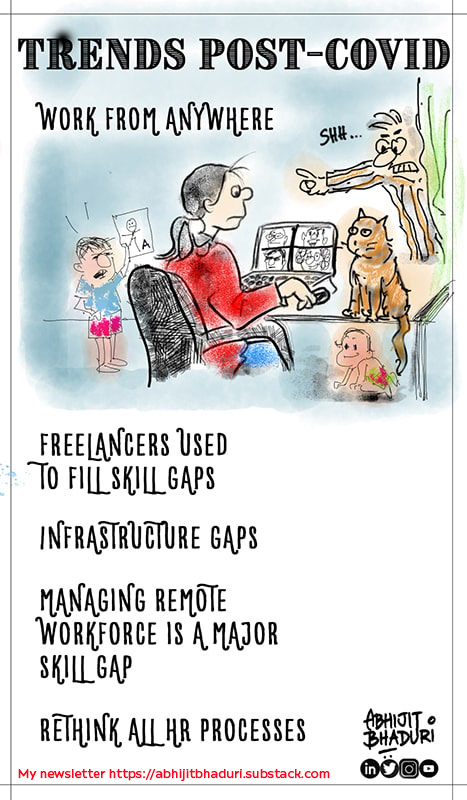 The Age of "Experience Makers"

Stuff that humans would do, are now being done by machines. But humans are extremely good at understanding emotions. An experience maker is someone who can shift the emotions in others. If someone is feeling dejected and defeated, can you make the person feel hopeful? Or inspired? If so, you are an Experience Maker. Adobe organized the Experience Makers Live. They invited Influencers from around the world to share ideas about shaping experiences. My presentation is there. You can watch it and download my slides from here

A sneak peak of what's coming next week … your career is all about finding dark chocolate. And more…

If you like the newsletter, then do like and leave a comment by clicking below

And do help me spread the word by sending this post to your friends and invite them to join.
Till the next Monday, stay connected. Stay curious.
@AbhijitBhaduri
abhijitbhaduri@live.com