Abhijit's Sketchnotes No 15
... because we remember pictures, not text
This is the 15th Edition of my #MondayMailer - a weekly compilation of useful ideas turned into visuals. Add your email to the red button below and get this in your mailbox every Monday at 9:00am IST
In this issue I want to share two sets of things you have to do to make your remote teams more effective (and what does that mean anyway). What is transformative innovation and why do firms struggle with it? Should you invest in building your personal brand (of course, you should). If you want to be called creative, you have to be creative every day … on demand… like a slot machine. Because, anyone can be creative (or truthful or motivated) for a day. Being anything day after day (even creativity), then becomes part of your brand says this person whose movies and ads have been seen by millions. So let's get started…
1. Anyone can be creative for a day …
A personal brand is the degree of trust others have in your ability to do what you say. That happens when others say what you do.
As R Balki said in my podcast Dreamers and Unicorns by PeopleStrong anyone can be creative for a day. But an advertising professional is creative every day. It is creativity on tap. Day after day… like a slot machine - creative on demand every day. Balki knows a thing or two about creativity. He is the person behind some of India's biggest ad campaigns and movies like Cheeni Kum. What triggered his interest in films? I loved his take on how to work with creative people.
Check out the episode with Balki <Listen now>
Please feel free to use any of these sketchnotes for your own work. Just share the subscription link to my newsletter if you wish to.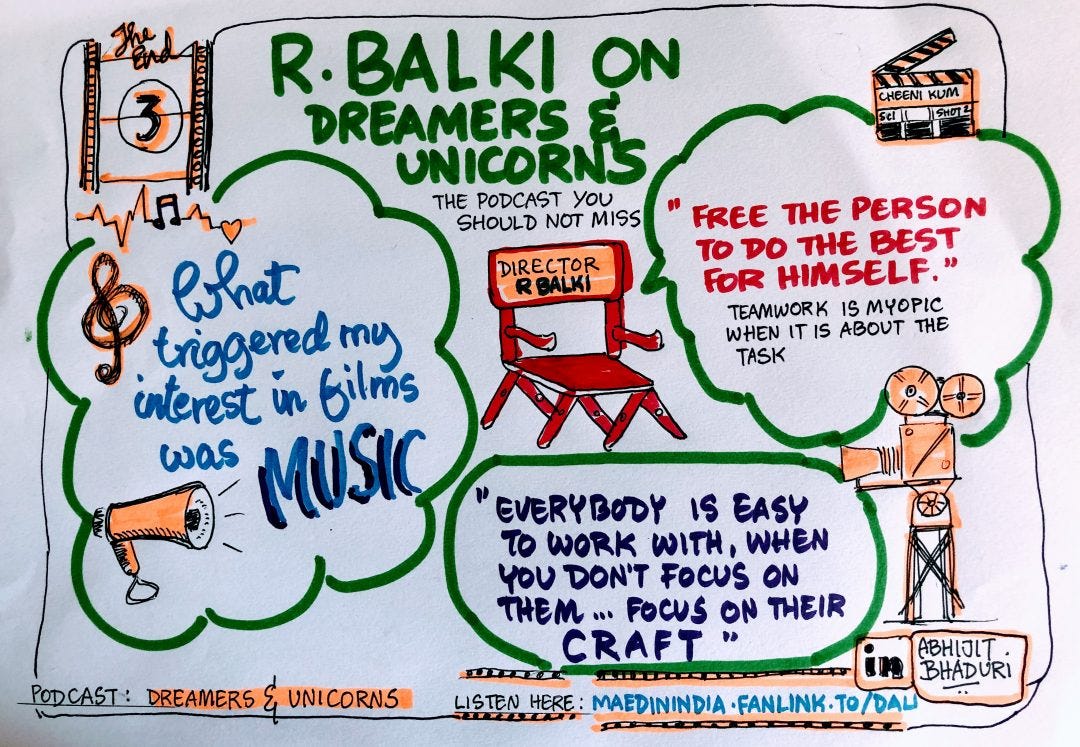 ---
2. Your Personal Brand - Should You Build It?
When people joined one organisation and then retired 30 years later from the same employer with a retirement gift and a pension, the employer's brand was everything. Then people started job hopping. So people with strong personal brands started having more opportunities.
What makes you unique?
When someone works with me as their personal branding coach, we spend time to first discover what makes someone unique. Most people struggle with that. Building a personal brand is not about having thousands of followers on social media. Several followers on social media is not the destination. It is a by-product of a powerful personal brand. That comes from knowing what makes you valuable to others.
Your uniqueness can be explained by the picture of this owl. You may have seen many pictures of owls. But you will never forget this one which got more than 36,000 views here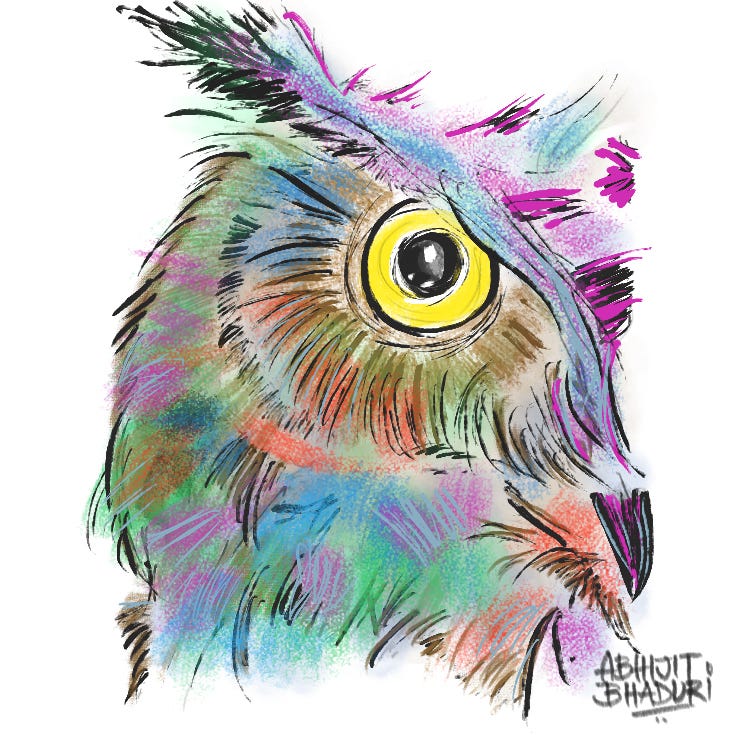 A personal brand differentiates you. During the pandemic, many people had to look for jobs. When employers lay off their employees, the better employers engage with an outplacement firm like RiseSmart, to help them find their next career move. Even for an outplacement firm it is easier to place someone who has a strong personal brand. It is your best insurance policy in case you need to look for a job.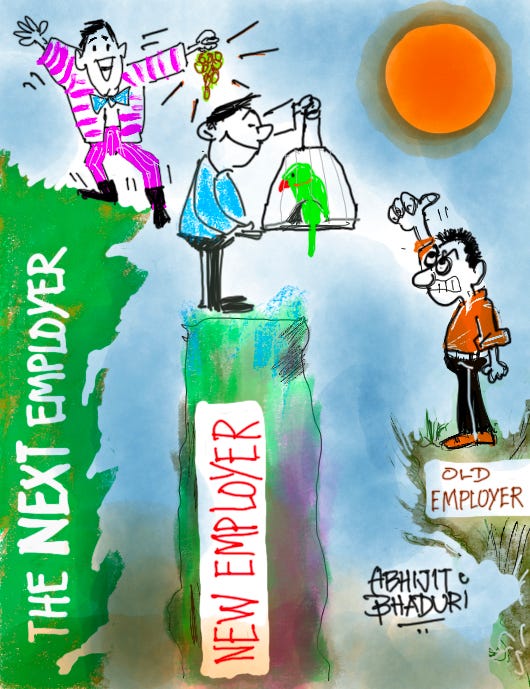 Here is a quick read on personal branding <read this>
If you are a Freelancer (and not a gig worker) you have to put disproportionate effort in building your personal brand before you get started. Read this
Want to know more about my approach to coaching people on personal brand building? Email me abhijitbhaduri@live.com
3. Transformational Innovation
Some organisations define their innovation agenda in terms of Horizon 1/ Horizon 2 and Horizon 3 (H1, H2, H3 for short). Horizon 1 (H1) as new features that could be delivered in the short term of three to 12 months, Horizon 2 (H2) as business model extensions that will be ready 24 to 36 months out, and Horizon 3 (H3) as creating new disruptive products or business models 36 to 72 months out. Today's Market Shapers create H3 Innovation in H1 time frames. Uber took existing technology (smartphone app, drivers) but built a unique business model (gig economy disrupting taxis).
KPMG has a report on Innovation 2020 (read it here). Here is a barrier to innovation that is often harder to manage - office politics.
" …innovators would rather be building new products, investing in startups, or deploying cutting-edge technologies. But they can't ignore the way the company culture will respond to the work they're doing. Politics, turf wars, and culture were some of the top obstacles cited by innovators …"
A CEO who leads a startup to scale up is different from someone who can turnaround a dying business. In the same way, creating breakthrough products needs different skills. The core business of the firm is suited only for small incremental steps. For the team to survive office politics and the bureaucracy created by fragile egos, needs a leader who has goodwill built over years. Let the Transformation Innovation teams be led by an old timer in the organisation. Love to know if you have any first hand experience managing transformative innovation - pl leave a comment. Thanks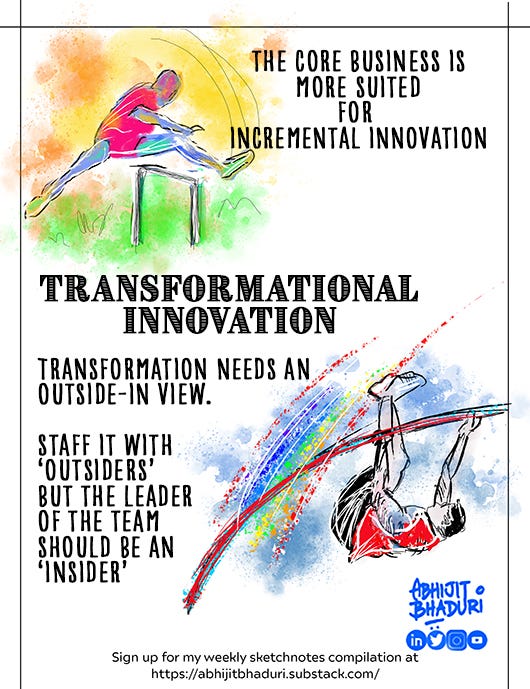 h/t: Tarandeep Kaur
4. Building 'culture' in remote teams
Teachers are working with students in remote settings. Most teams today operate in a remote manner. How do we build bonds in the team and create a common culture when the teams are remote?
There are two things to do:
a) Build a SHARED IDENTITY
We are one team across the organisation working to make the customer successful. That increases trust and builds psychological safety in everyone. It encourages information sharing. Build clear team goals. Clarify every person's role. It tells everyone that my contribution matters. Share customer feedback and metrics with the team.
b) Build SHARED UNDERSTANDING
Take time to understand each team member's context - what is the environment in which the person is working - the challenges and issues. Learn how they are managing day to day work with the rest of the family. Having more knowledge about our colleagues as humans, personalises them and we no longer look at their behavior in a sceptical manner. This is best done through informal interactions. Switching off the camera in a video conference enables people to focus on listening to the voice. People are better at reading emotions through audio than video. It is also less emotionally exhausting for introverts.
Listen to this podcast by Adam Grant: How Science Can Fix Remote Work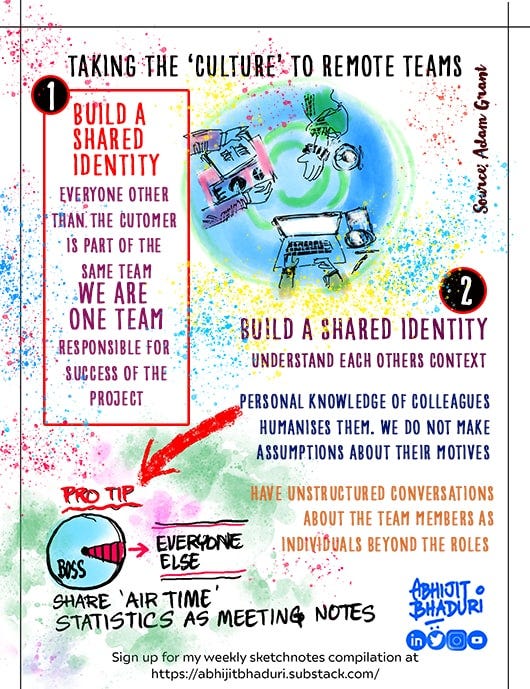 ---
5. Rethink Generational Labels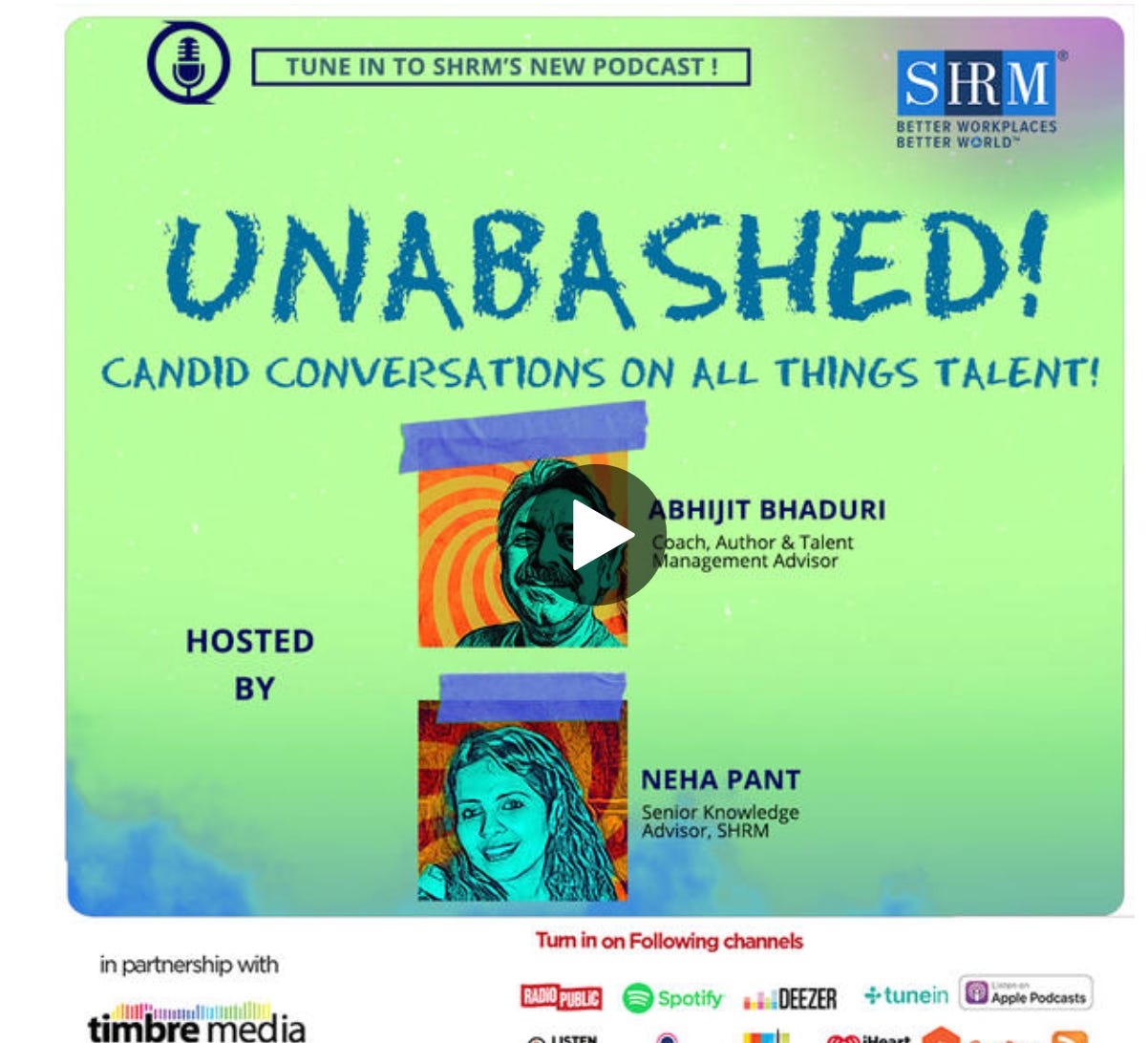 When people share a common lived experience they form a generation. A generation shares common memories that shape their world-view.
But are these labels universal? Should you classify someone in India as a 'Boomer' or 'Baby Boomer'? The Baby Boomer generation describes people born from 1946 to 1964, during the post–World War II baby boom. But 1947 was a different socio-economic-political reality in India as compared to say US (or any other country).
Maybe these generational labels should be unique to every country. Shared media maybe creating "taste clusters" that are more powerful than labels like 'Millennial' which create stereotypes that may not be universal.
Social media platforms have a deeper impact in creating unifying experiences. The generation in India that grew up watching Buniyaad or Hum Log on TV will have common memories. Shared experiences of media can cut across socio-economic-political groups. Maybe it is time India had its own generational labels based on media viewing habits.
Listen to this UNABASHED: Does India Need Its Own Generational Labels
While Baby Boomer may not be a valid generational label in India, is the global experience of the pandemic creating a shared experience that describes a generation? Do leave a comment to let me know.
That's all for this week. If you want to reach me, email me
 abhijitbhaduri@live.com
Share this post with a few friends and WhatsApp groups by clicking the button below.
Till we meet next week…
Stay curious. Stay connected.
Truly
Abhijit Bhaduri