Abhijit's Sketchnotes No 13
... because we remember pictures, not text
This is the 13th Edition of my #MondayMailer - a weekly compilation of useful ideas turned into visuals. Get your own free copy by adding your email below.
1. Is Online Education Better Than Traditional Education?
When the lockdown began, education went through a forced pivot (along with many other things like healthcare, retail and the office, of course). Is online education effective and what is the problem startups in EdTech should solve for instead?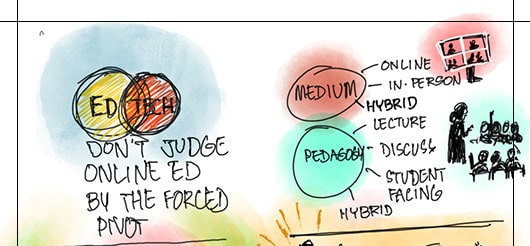 Pedagogy first, then the medium
During the lockdown, we were all forced to adopt online education. Is it effective? To understand that, separate the pedagogy from the medium. The pedagogy can be a lecture, it can be a discussion, small group tutoring, lab work or possibly a hybrid model. Every lecture you watched online or every class you took online does not quite mean you have actually LEARNED. Watching Olympic swimmers for an hour will not improve your swimming - nor make you a swimmer.
Online learning or in-person teaching is just a medium to deliver the content. Once you have great content, online learning is a great way to distribute the content. The larger the class size, the cheaper per person it is. The online medium is a wonderful way to bring down the cost of distribution for say a music class. Online learning can have multiple use cases - K-12, Undergraduate/ Post Graduate classes, Hobbies, Worker Learning, Executive Education, Masterclasses etc.
Listen to this podcast from a16z about online education
Every learner does not learn equally well online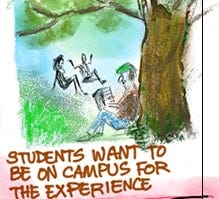 It can make college much cheaper. But Massive Open Online Courses (MOOCs) have not been able to replace college because being in college is a very different experience. Here are some free MOOCs you can take. For children going to school, online learning takes away the opportunity to build social skills and is not very effective in peer-group learning. Several helicopter parents stay out of the screen but prompt the child with the 'correct response', thus severely damaging the learning experience. Frequent testing is one of the best ways to learn at all ages. Being seen as the smartest baby is not a great way for the kid to learn (neither is it useful for an adult).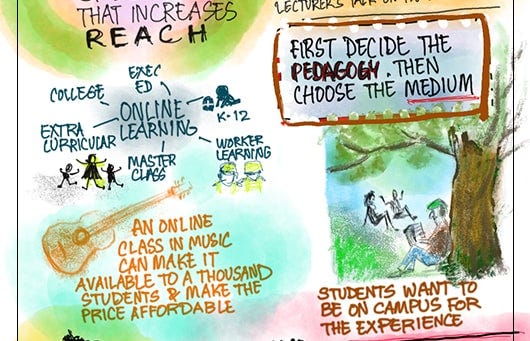 What is effective is not cost-effective
Small group tutoring in high doses is very effective, but it is not cost effective. When businesses allocate a coach for their high potential employees, they are providing the equivalent of high dosage tutoring, but it is expensive.
Imagine if every student could have access to a life coach. What if every employee could work with a leadership coach. In a conversation with the Director of MICA, Ahmedabad, (full disclosure: I used to be on the MICA Governing Council) I learnt that the professors record a 30 minute 'lecture' which the students watch ahead of the class. The next day, the group of students use their time to have discussions with the professor. The projects, assignments and tests reinforce the learning further.
Fewer content creators - more tutors
Content creation is a complex task: What if content creation was left to a team of instructional designers, academics, storytellers, animators, video and audio creators. They could create short form and long form content that is engaging and interactive. If the content has already been created and can be used by the teacher, it is infinitely better than listening to someone standing before a camera and droning on.

Multiple perspectives: Have unique perspectives (even when they are opposing views):Having one single content provider is dangerous. Education is one of the first places authoritarian states attack when they want to shape young minds. This awesome TED talk tells you about the "Danger of a Single Story"

Personalisation: The role of the teacher/ instructor or coach can be to personalise the content to the context of the learner. That means being able to slow down or speed up depending on the student's ability.

Building habits: But the most important role of the teacher is to be able to simplify the idea and create opportunities for the student to apply the learning. The teacher can help the student to progressively become a self-starter. The role of the teacher is to motivate and inspire and build great habits.

Is online learning just as effective for you as in-person learning? Do let us know what is your experience. Thanks for leaving a comment here

2. Why reading translated books is important

When I was growing up, I read a lot of Russian literature translated into English or Bengali. More recently I read Gulzar's translations of Tagore in Hindi. They have been set to music by Shantanu Moitra. <listen here> I wrote about the experience of spending a day with Gulzar Saab watching him record that translation. It was a fanboy moment for me. That is when I discovered that Gulzar Saab can read Bengali. (He translated the Bangla poem to Hindi while using the Urdu script). He writes in a note book or on pieces of paper. He turned 86 on 18 Aug 2020.

I wrote about my meeting with Gulzar saab here

Today I want you to listen to this interview with Arunava Sinha who has translated 45 Bengali novels into English. He has recently translated an intriguing story called Tiger Woman written by Shirsho Bandopadhyay (I ordered the book, waiting to read it). You can read a review here. It is a historical novel with a tragic love triangle as the core story thread.

When you read a translated book, it enables you to understand other unfamiliar worlds. The most difficult part of the translation is the dialogue, says Arunava. You have to translate not what you see (read), but the words as you "hear it in your head". Here is the interview that was sent to me by Dr Anjan Ray. Thanks

https://valleyofwords.org/podcast/arunava-sinha/

The cover design of the book is brilliant. What do you think? Do you agree that reading translations can expand our world view? Leave a comment

3. Have you heard of 'fake podcasts'?

There are markets dedicated to fake handbags and watches and sneakers. But what is the difference between say 'fake currency' and 'counterfeit currency'? Hint: All counterfeits are fakes, but all fakes are not counterfeits. Recently I was intrigued to read about 'fake' podcasts. So what makes a podcast fake?

Podcast creators distribute dozens of shows with the same names as popular podcasts such as 'Serial,' and 'The Joe Rogan Experience' to be distributed across the podcast ecosystem. Digiday says

'… copycats appear too, in many cases with nearly identical metadata and cover art. The fake shows appear designed to trick listeners into listening to them, so they can be monetized through ads injected automatically…'

Do you think that these podcasts should be called "fake podcasts" or "counterfeit podcasts" … yes, what do you think? Leave a comment and tell me why

4. Why do we dread hearing that phrase?

'I have some feedback for you'… think of what that phrase can do.

You curl up expecting the worst. The word feedback is value-neutral. It could be appreciative or corrective. Corrective feedback helps us become more successful. How do we do this in a manner that makes it easy to accept - without sugar coating and diluting the feedback.

I had a professor who was hard to please. He set high standards and made us work much more than any other professor in the institute. He was less than generous with his grades. Yet, all of us thought he was very fair and was good at heart. I wonder what was his secret.

This article talks about the 'Five-One rule'

Do share a tip you use to give feedback to people - especially when it is not complimentary. Have you worked with someone who gave you the toughest feedback but made you feel motivated enough to act on it? Leave a comment and tell us how it was done. By the way, I would value your feedback about the newsletter.

5. How long does it take to be funny for 5 min?

Atul Khatri used to be the CEO of a software firm. Then one day in his forties he decided to give it up to be a stand-up comedian. If you have watched Shah Rukh Khan host some of these film awards shows, then you may know that many of the witty one-liners are written by stand up comedians like Atul Khatri. Play to Potential is a podcast by Deepak Jayaraman where he speaks about career transitions that people navigate. This episode with Atul Khatri takes a look at how Atul moved from selling software to doing stand up comedy part time and then finally choosing comedy as his second career.

How long does it take to write jokes that last five minutes on stage? Just take a guess and leave your response before you listen to the answer.

Atul speaks of the Sindhi community in Hong Kong who have moved from selling tailored suits to VCRs, DVDs and now crypto machines. It is a lovely example of a community that has adapted to the changing times.
That's all for this issue. If you like the newsletter, please do share it with your groups on WhatsApp. Just send them this link https://abhijitbhaduri.substack.com/ Or you can share this post by clicking this button.
I keep experimenting with the newsletter. Let me know if you like this one. I thrive on feedback. You can email me at abhijitbhaduri@live.com or on Twitter @AbhijitBhaduri or right now, right here
See you next Monday at 9:00am sharp (India Time). Till then stay connected. Stay curious.