Watermelons, book covers & 4 year olds
Issue 19
If you wish to subscribe to the newsletter, you can just add your email to https://abhijitbhaduri.substack.com and get this email in your mailbox every Monday at 9:00am IST.
If you like the newsletter, please help us grow by sending your friends this link
1. Watermelons and succession planning
How are watermelons and succession planning linked? I have a watermelon story for you that will answer the question.
Old timers in every organisation resent the big bucks that their employer is willing to pay when they bring in external hires. It is much more effective to invest in growing your own talent. Investing in developing leadership talent takes time. With each passing year of investment, the leadership bench of a company gets bigger and better. Should you invest in developing people when business is slow? Or should you hire for the future since the market is flooded with talent now. What would you advise? Leave your opinion below:
I read this story about watermelons in the Founding Fuel newsletter. The story was narrated by Manohar Parrikar, the late Chief Minister of Goa.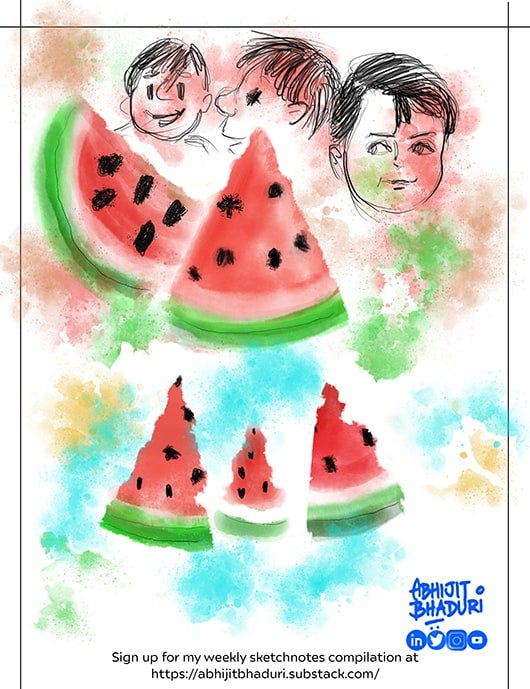 "When I was a child, the farmers of Parra, (a village in Goa famous for its watermelons) would organise a watermelon-eating contest at the end of the harvest season in May. All the kids would be invited to eat as many watermelons as they wanted. The farmer would ask us to spit out the seeds into a bowl. We were told not to bite into the seeds. He was collecting the seeds for his next crop. He kept his best watermelons for the contest and he got the best seeds which would yield even bigger watermelons the next year.
I went back to my village after 6.5 years and went to the market looking for watermelons. They were all gone. The ones that were there were so small.

"His son was continuing the tradition of the watermelon-eating contest but there was a difference. His son realised that the larger watermelons would fetch more money in the market so he sold the larger ones and kept the smaller ones for the contest. The next year, the watermelons were smaller, the year later even small. In seven years, Parra's best watermelons were finished."
There are only two times you must think about developing your employees - when you are doing well (because you have the luxury of money) and when you are not doing well (you have the luxury of time).
---
2. Do you judge a book by its cover?
Yes, you do. It creates the first impulse in the buyer to pick up the book and browse/buy. For my upcoming book Dreamers and Unicorns, I thought I would design the book cover. In the process I learned a thing or two about cover design. Hint: It is not just an exercise in creativity.
Here are a few things designers will ask before they start designing:
The author's brand: The font, the colour combination and look must amplify what the author stands for. The first book of an author will merit a different look and feel than someone who is a much-published author.

Ask the sales teams in bookstores: I wanted to place this unicorn on the cover. But when the cover was shown to a few sales people from some of the leading bookstores, they loved it and said that children love stories about unicorns. I hurriedly recalled that option for my book cover.

The elements that need to be emphasised: What percentage of the book cover must be occupied by the title? Should you put the author's photo on the front cover or at the back? Should you put a celebrity's endorsement on the cover or should you add a newspaper's comment? Each one of these is a possibility. And each choice is complex.

You may want all this and more, but finally what matters is - what does the printer need? 99 designs explains about book cover design in this blog

I also crowdsourced designs for my upcoming book's cover. We wanted to run a contest for a few weeks before taking the call to shortlist one or two ideas. We landed up getting flooded with ideas from the readers.

Here is a view of how I think judges will decide the winning design. And yes, we will reveal the final cover on 3rd Nov 2020 and launch the book on 16th Nov 2020 (which happens to be my birthday too).

3. External hires - are they better?

According to Wharton management professor Matthew Bidwell, "external hires" get significantly lower performance evaluations for their first two years on the job than internal workers who are promoted into similar jobs. They also have higher exit rates, even though they are paid 18% to 20% more. External hires were 61 percent more likely to be fired from their new jobs than were those who had been promoted from within the firm. There is a greater risk of failure which can result in termination and generate more hiring process costs.

On the plus side for these external hires, if they stay beyond two years, they get promoted faster than those who are promoted internally. It takes people almost two years to build relationships and navigate the company culture.

Let me ask you, what makes companies obsessed with hiring from outside? Leave your comments below by clicking the red button

4. We turned 4 on 4th Oct 2020

Abhijit Bhaduri & Associates started on 4th October 2016. Our logo is the ampersand symbol that we see all around. 

'&' shows the partnership we have with our associates. We bring our strengths & weaknesses to the workplace. While I am the face of the organisation, the associates are the creative energy behind the business. The magic happens with the Associates & me. The '&' reminds me of that.

& shows the polarities we all deal with - the challenges inside the organisation & outside. 
& shows the partnerships we have with our clients. We work with them & CO-create our solutions. 
& is the symbol of creativity & possibilities.

Here's to 4 Fruitful years & 4ever more ❤️

5. People are buying bigger houses

America's house prices are up 5% on a year ago. Germany's are 11% higher. Britain's hit an all-time high, in nominal terms, in August. In many countries, the central bank is making housing loans available for lower interest rates.

With everyone working (and studying from home) and people not spending on other expenses (like travel), people are ready to indulge themselves by moving into bigger spaces. Dig deeper

Do you think, India is seeing a different trend in housing? Leave a comment and tell us what you have observed

6. If you could go back to college, what would you change?

In this episode of Unabashed, my co-host Neha and I discuss what we would like our college experience to be, if we could go back in time. Neha would like to become a student of Adam Grant to learn Psychology. When I remind Neha that would mean having to join Wharton (that is where Adam Grant teaches), she wonders about an interesting possibility.

Listen to that suggestion here

I would like every class in college to be taught by an academic, a practitioner and a student who may have taken the classes earlier. Listen to this
With that it is time to say goodbye until 9:00am IST, next Monday. If you read, watch or listen to something interesting, do share it. Thanks for all your lovely mails.
Have a question or a suggestion: email me abhijitbhaduri@live.com
Follow me on Twitter, Instagram and LinkedIn @AbhijitBhaduri