Types, Fonts, Rifts and Charts
Issue No 20
Welcome to the 20th edition of the Monday Mailer. This week, we have an extra story about Prof Srikant Datar. Don't miss that anecdote about gambling, in the video link given below.
If you have not subscribed to this free newsletter of ideas, you can add your email by clicking the subscribe now button below
1. Charting the story
I sometimes browse through job ads to understand business trends. GM was recently looking for a 3D Senior Visualisation Artist for their User Experience (UX) team. Automotive UX is a great place for artists who can use visuals on customer facing displays. (Want to apply for the role? Click this)
Visualisation skills can be used to make our presentations interesting. Business presentations use graphs, charts and data in the meetings. Pro tip: After you make the charts, pause to annotate them. Think of them as a whisper in the ear of the decision maker.
Nancy Duarte who has written a fabulous book on presentation skills, says,
'Complex charts are good for exploring data, but classic charts (that is, a bar chart, line chart, and pie chart) are better for communicating data.'
Contrasting the information is a great way to annotate your charts. Using colours or fonts to highlight information is a smart way to annotate your charts. Bold fonts can be used to draw attention to critical information. Annotations can be used to show under performers and high achievers.
Your data must become visually consumable. Dig deeper
If you have not read her book about presentations, learn more
Here is a sketch note on how to annotate the graph by using fonts, colours and lines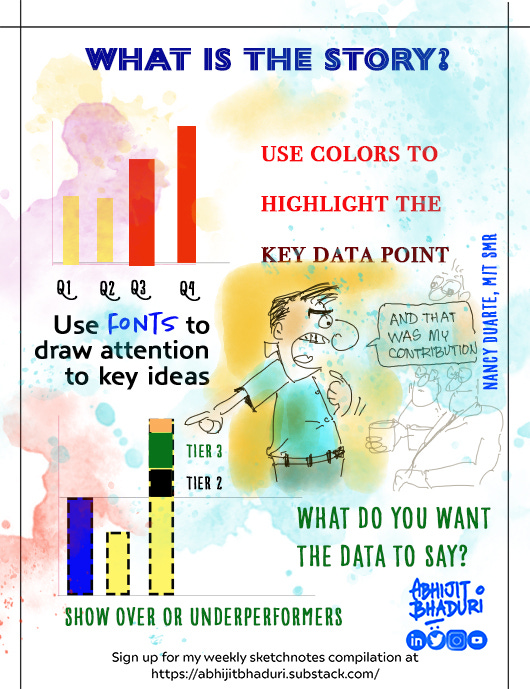 ---
2. Fractured families & how to mend them
"Happy families are all alike; every unhappy family is unhappy in its own way." That was how one reader (who requested anonymity) began her email. Karl Pillemer's book Fault Lines: Fractured Families and How To Mend Them explores the multiple reasons why families have rifts. The reasons can range from hurt to feelings of being let down by a loved one. Sometimes the scenarios are beyond the control of any person. What can you do to mend the situation?
The past cannot be mended, so it is best to move ahead.

In moving ahead, remember, you may have also contributed to the rift unknowingly. Reconciliation can be a powerful moment of personal growth.

If it is too toxic and painful, it is OK to not reconcile.
If you want to read some more, here it is ($)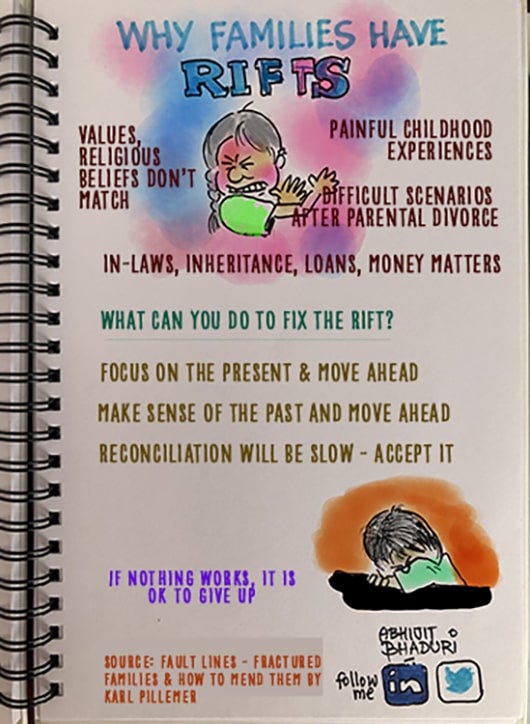 3. "Bubble Tourism"
Their enterprise used to take 9 to 17 year olds to camps and treks. Satindra and his partners offered options that ranged from trekking, rock climbing, mountain biking , ropes courses, rafting and some self contained expeditions. With his experience in executive education, the business grew rapidly. By 2019, they were operating in 15 locations and almost 20 activities that participants could choose from. And then COVID-19 happened. The tap ran dry. That is usually a signal that it is time to think of a pivot. That is when "Bubble Tourism" was born.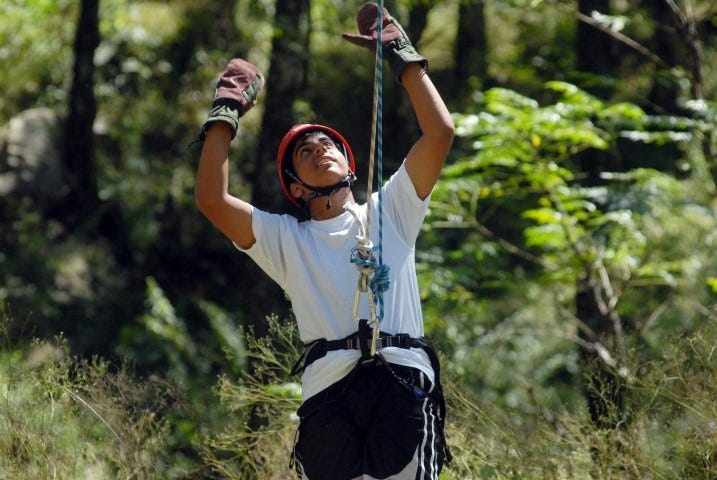 He realised that people were feeling suffocated after months of being copped up indoors, but health and safety were prime factors before people would travel. This the idea of "bubble tourism"... where you can travel in your own bubble, stay in tents / rooms that are a distance away from your neighbours and enjoy the pristine wilderness of these locations. Enjoy the white waters in Rishikesh, or go angling in the Tirthan river, enjoy a hike thru the coffee plantations in Coorg or laze around while enjoying the view of snow capped peaks from Sitlakhet. Being an entrepreneur is all about being creative. "Bubble Tourism" is such an example.
---
4. I am not that 'type'
While working at the Eicher Goodearth factory, I got a chance to edit the house-magazine. I spent many an evening, with the owners and staff of the printing press, getting educated about fonts and typefaces. The elderly gentleman at the press would not hesitate to scold me for using "typeface" when what I meant was the "font". Times is a font family, whereas Times Roman, Times Italic and Times Bold are individual fonts making up the Times family. 'Serifs' are those little 'shoes' at the extreme end of the font.
The typeface can convey the idea that the product or service is exclusive or a premium category (watch how The Oberoi Group conveys the notion of luxury).
Here are 64 typefaces for you to browse through if you wish to convey that you offer something aspirational.
As Rajiv Bhalla, a reader who helped clarify the mystery says, "Typeface is like an album and fonts are like the songs". A font is what you use, a typeface is what you see.

Many of us know Satyajit Ray as one of India's most acclaimed film directors. He was also an award-winning typeface designer. The two typefaces 'Ray Roman' and 'Ray Bizarre' won international awards in 1971. Daphnis and Holiday Script were also Ray creations. Read more about Ray's calligraphy. <dig deeper>
Netflix has a serial about design. Paula Scher is the high priestess of this art. She says, "Typography is painting with words." I absolutely recommend this video below.
I could go on and on. I am very font of this subject.
Like this post? Share this with a friend
---
5. Harvard gets a design thinking expert as Dean
Srikant Datar is going to be the next Dean of Harvard Business School. The 11th Dean will take over from Nitin Nohria. Srikant Datar is known for his work in Design Thinking.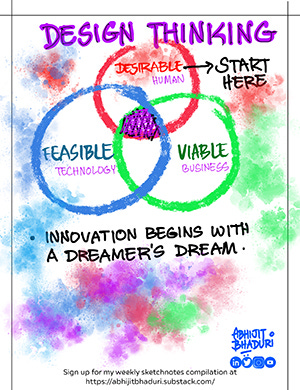 He is a Chartered Accountant who went on to do his MBA from IIM Ahmedabad. He was the gold medallist of his batch at IIM-A. He fell in love with the world of ideas and decided to pursue academics. He holds a Masters degrees in Statistics (he has Data built into his last name, remember) and then did a second Masters degree in Economics, both from Stanford. He stayed on at Stanford to do his Ph.D. in business. Thought I would do a quick sketch of the man.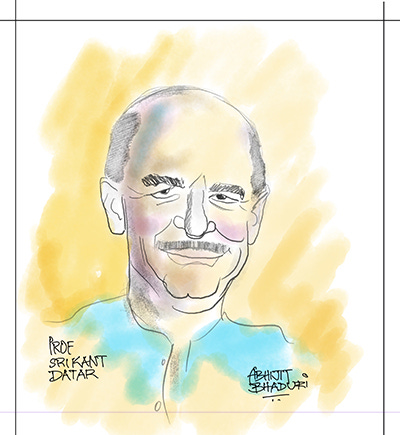 Harvard is lucky to have someone of his calibre, to rethink its offering at a time, when businesses are seeing convulsive changes. In a book published in 2010, called Rethinking the MBA: Business Education At The Crossroads, Srikant had suggested two opportunities:
The MBA programs aren't giving students the heightened cultural awareness and global perspectives they need.

Newly minted MBAs lack essential leadership skills. Creative and critical thinking demand far more attention.
This conversation below may give you a view of the man behind the achievement and it generates hope in me. Would you agree?
6. Talent Acquisition during a hiring freeze
What do recruiters do during a hiring freeze? That is what many talent acquisition teams struggled with. Many of them struggled, but some did a pivot. They decided to stay connected with the talent pool. Many job descriptions need to be questioned.
Hey, do you believe that 'job descriptions' are a thing of the past? In the latest issue of Unabashed, the weekly podcast about all things talent, listen to the biggest opportunity that the Talent Acquisition team has during a hiring freeze.
---
That is all for this issue. See you next Monday at 9:00am IST. If you have enjoyed reading this, do help us grow by recommending us and leaving your comments on the substack site. Thank you. Stay curious and stay connected.