Abhijit's Sketchnotes No 8
... because we remember pictures, not text
Welcome to Episode 8 of my Monday Mailer - a weekly compilation of ideas turned into visuals. Here's how you get the most out of this newsletter of ideas: study the visuals here for a few seconds and it gets printed into your memory.
Get it in your mailbox by adding your email here. If you want to delight a friend or colleague, who is too busy, just add their email id to the button.
Do goldfish have greater memories and attention spans more than humans? Hint: Goldfish, human attention spans and Netflix are connected. Talking of goldfish, I remembered a quote that a teacher of mine shared when I was entering college. I shared it on LinkedIn and it unleashed a fish market! This week you will learn about Zoom etiquette with me. I immediately realised I am guilty of one etiquette norm.
And I am excited to tell you that … I am speaking at the Adobe Experience Makers Live Conference on 22 July 2020 at 9:30pm India time. So please be there to cheer me and ask questions. And the lead story this week is about how to network when you can't meet in person. So let's go…
1. NETWORKING IN A VIRTUAL WORLD: Careers and businesses are built on human relationships. How do we build real relationships when everything is "virtual"? Goldie Chan is known as the "Oprah of LinkedIn." Her column for Forbes on remote networking curates tips from 21 experts. Tip 1: Everyone has their preferred social network (LinkedIn is my fave). Find out which one it is and engage with them on that platform. Amber Osborne, VR/AR Marketing Strategist had the most novel suggestion. She says, "Use a social virtual reality platform like AltspaceVR or Mozilla's Hubs. Platforms like these allow users to interact via avatars and also easily join through a browser instead of just solely through a virtual reality headset." Create a smartphone video to connect on a personal level suggests Pelpina Trip, a smartphone video coach. More ideas here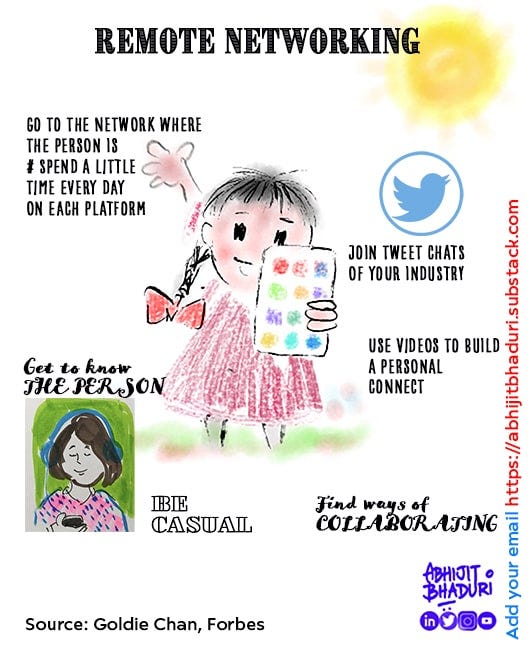 2. YOUR L&D TEAM NEEDS STORYTELLERS: Netflix added more than 10mn subscribers last quarter!! And their Chief Content Officer Ted Sarandos has been named Co-CEO with Reed Hastings. Terrific content gets people to binge watch Netflix shows. It is all about creating content that engages people. You can use the same idea to get people hooked to your firm's learning content through great storytelling. How many top notch storytellers & Instructional Design experts do you have in your Learning & Development team? Invest in a great Learning Experience Platform (not LMS). It is all about the experience of learning. Invest in creating content that is really engaging. Invest in your L&D team. This is mission critical. Short attention spans only show that we don't tolerate poorly produced content. They can spend hours binge learning stuff if it is interesting. Leverage storytellers in your L&D team. Read this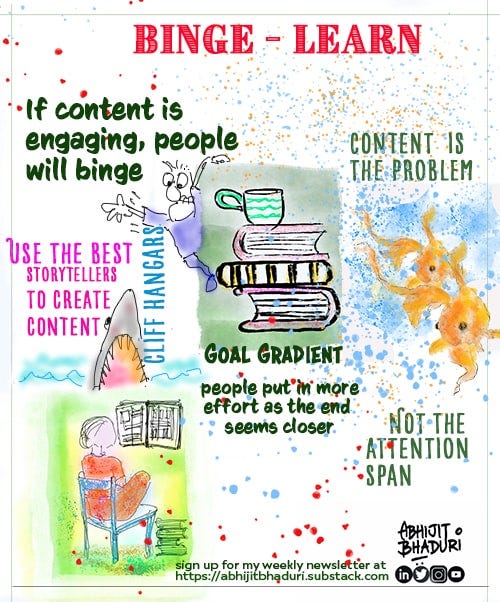 ---
3. YOUR FAVORITE QUOTE ABOUT FISH: Talking about fish, when I was about to step in to college, a teacher had shared line of advice, "Only dead fish go with the flow". When I asked people for their favorite quote about fish yes, about fish, the post went viral and gathered more than 100,000 views, 500+ likes and a hundred comments in 24 hours. Before you go there, please tell me your favorite quote about fish and what it means to you. One quote from my readers was especially meaningful. Here it is Click this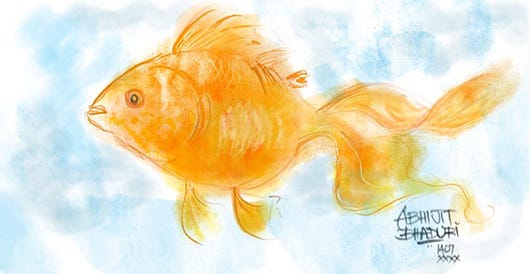 4. ZOOM ETIQUETTE: Videoconferencing was never so common before the lockdown. Then suddenly every meeting and every Friday Fun Day was on Zoom. New words like "Zoom Fatigue" and "Zoom Bombing" became our vocabulary. Zoom has become a generic term for videoconferencing. Microsoft, Google and Cisco must be envious of Zoom. You think so? The seven rules of Zoom etiquette are here. Confession: I am most guilty of not sitting still. I get fidgety. Anyway, now that I am wiser, I will not do it. Which of these seven etiquette norms seems unnecessary? Leave a comment below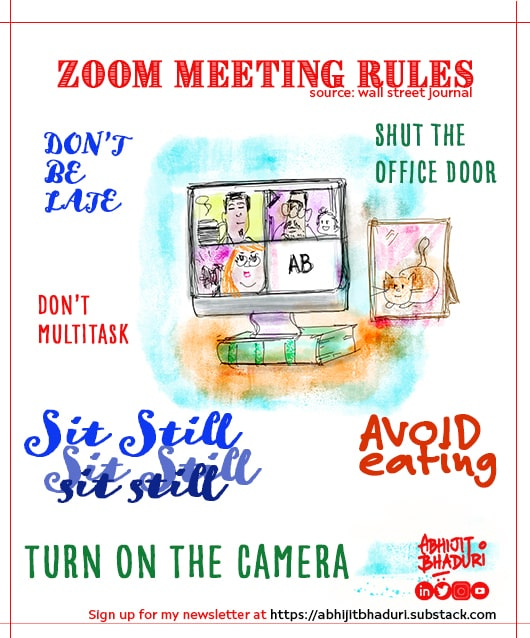 5. ARE YOU AN EXPERIENCE MAKER: Customers do not buy products or services. They buy experiences. When students are disappointed about not going to college, they regret missing out on the experience of college - not the learning content. That's what I meant in the section on binge watching. They want the learning experience. This is a competitive advantage that is hard to beat.
You know I am an evangelist for Adobe. You can discover the #AdobeInsider on Twitter. I was thrilled to have been invited to speak at their global event on July 22, 2020. It is called Experience Makers Live. It is FREE. May I request you to please join me for my session? Bring your friends. Send them this link https://adobe.ly/2ZpAc6o Will you be there? Please leave a comment and tell me so.
Join me at #ExperienceMakers Live for my session, "How to Hire Leaders & Experience Makers" + live Q&A at 9:30pm India Time ie, 9:00am Pacific Time on July 22, 2020! Bring your questions and register for the free event here: https://adobe.ly/2ZpAc6o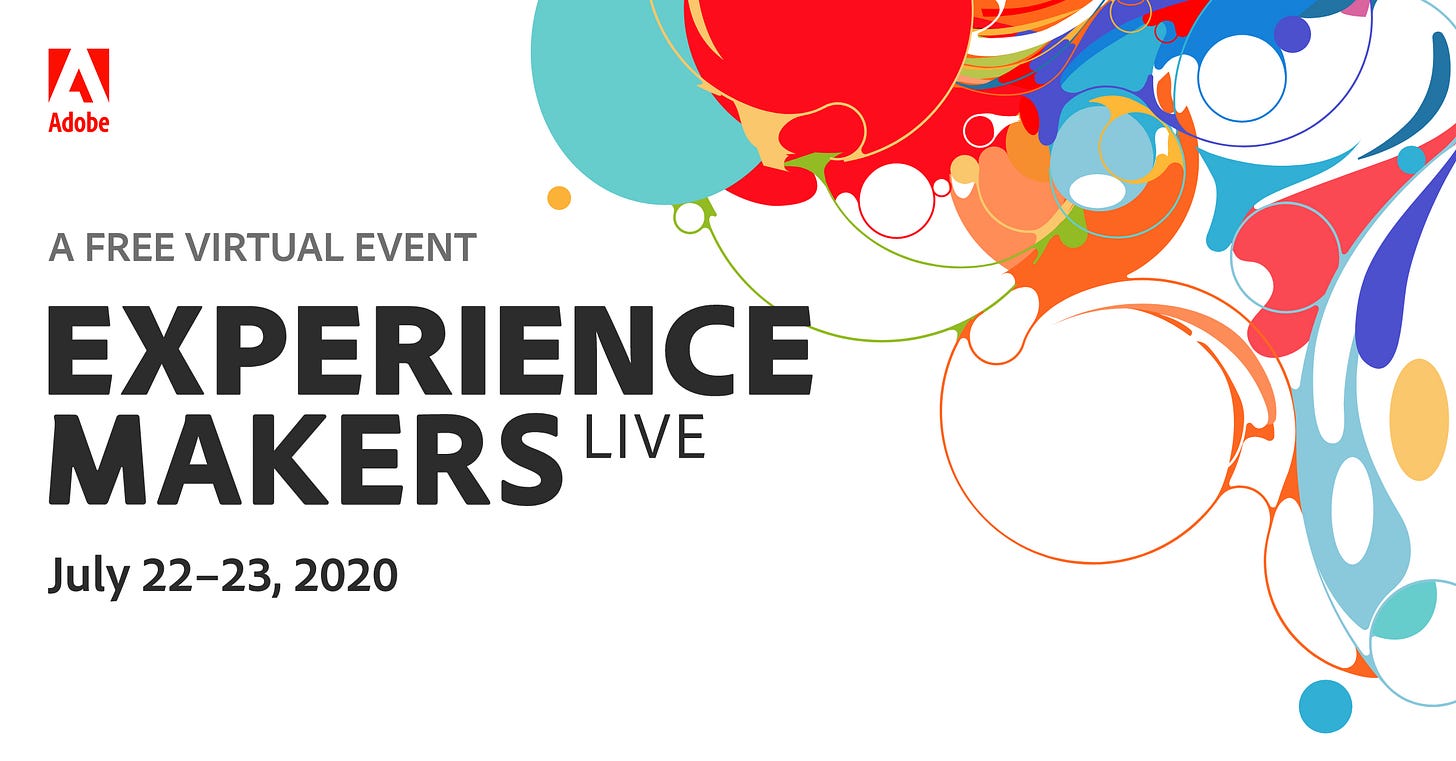 And that is all for this week. If you read something you want to share with everyone, email the link to me. My email is abhijitbhaduri@live.com
Welcome to all those who joined this week. One whole team has joined the mailing list. A great way to build a curious set of colleagues. And thank you to everyone who The best way to invite someone is to tell them why THAT person will enjoy the newsletter and then send them this link https://abhijitbhaduri.substack.com/
Stay connected. Stay curious.
@AbhijitBhaduri