Abhijit's Sketchnotes No 11
... because we remember pictures, not text
This is the 11th Edition of my Monday Mailer - a weekly compilation of ideas turned into visuals. Get your own free copy by adding your email 
In Jan 2020, I was celebrating signing up my 5th book Dreamers & Unicorns. In March 2020, I panicked. The world of work was changing from BC to AD (Before Corona to After Disruption). So it had to be written once again from scratch (mostly by scratching my head) and starting with ABCD. Talking of ABCD, the New Education Policy was unveiled in India. Harvard, Princeton, Oxford etc are all moving classes online. Is that the end of college? What about Social Learning - does that work? Can writers earn enough to pursue writing as a full time career? Because there is a new world of careers brewing it is a terrific time to be alive. So let's dive in …
1. Students Want To Be In College - Not On Zoom
Education is going through a churn at every level from kindergarten to universities. India's New Education Policy wants students to learn coding from Class 6. Not surprising that Whitehat Jr, an 18 month old startup was bought for $300mn by the decacorn Byju's (Currently valued at more than $10bn). Whitehat Jr created a new category in EdTech – teaching coding skills via a live learning model. All its 5000+ teachers are women. They teach students to code & help them build commercial-ready games, animations and apps. Online is thriving.
College education in America, Australia, Canada & Britain has been an attractive option for wealthy Asian parents. It is great for the colleges too. International students pay more than 20x in fees than locals. That money has been spent on lavish buildings, giant auditoria (yes, many auditoriums); Olympic size heated swimming pools and a bloated set of admin staff etc. The salaries of many Deans and Presidents of colleges will shock you. Check it out. Postsecondary education in the United States is an almost $700-billion-a-year business, and tuition and fees associated with residential colleges are a primary and critical pillar of this educational economy.
Where do colleges save money? In teaching! Yes, the classes are taught by hourly gig workers called Adjunct Professors. Profs and Teachers are getting laid off in many colleges and schools.
The swimming pools and auditoriums are empty because of geo-political tensions, Covid and no travel. Scott Galloway says once the colleges have your fees in September, they will announce the move to online classes. Read more here $ The Economist
HigherEd now means getting paid access to the College's YouTube channel. Why doesn't the pricing reflect it? Leave your comment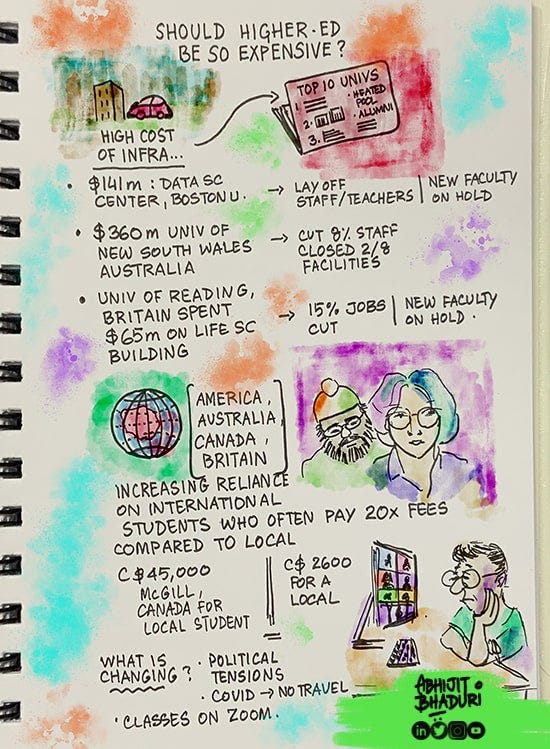 2. The Future Talent Pool of the World
India is the youngest country in the world and will be a major source of talent for the world. That is why the National Education Policy will determine the talent pool of the future. The size of the talent pool is massive. India has 1000 Universities, 45000 Degree Colleges; 1,500,000 schools where 10,900,000 teachers teach more than 330,000,000 students. The education policy has changed after 34 years. So high time we did a course correction. A couple of heartening things: breakfast and mid-day meals in schools (attracts the economically vulnerable to send the kids to study and not work); interdisciplinary learning and vocational choices are being offered. Higher education in India will be open to foreign players. There is an opportunity for students to be taught in the mother-tongue until the 5th grade - a recommendation that will be ignored.
The biggest change is the introduction of four-year undergraduate degrees, with options for entry and exit at various stages, a credit transfer system, and the abolition of the M Phil programme. A quick summary of the changes <read here>
Do you believe that Education should have been a Central subject? What do you like in the new policy and what do you dislike?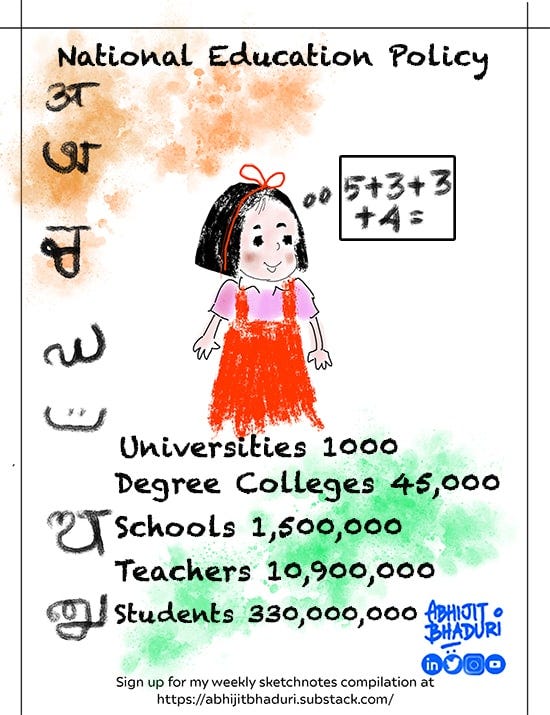 3. Social Learning
The EdTech provider Docebo (pronounced as Dough-chay-bow) shares some numbers about "social learning". Social learning approaches have a 75:1 ROI ratio compared to formal web-based training. 82% of businesses that use social learning tools want to increase their use in the future. Course completion increased to 85% on HBX, a Harvard Business School online education initiative when it introduced social learning. Here is a blog by Docebo talking about this.
Learning is a social process. We learn so much by observing others. So watching other people beyond a tiny square on the screen makes a difference. I believe, hard skills can be done seamlessly online. But soft skills need in person conversation. To me learning soft skills on Zoom looks like the painting I made below.
This post is recommended by Tarandeep Kaur all the way from San Francisco. Thanks.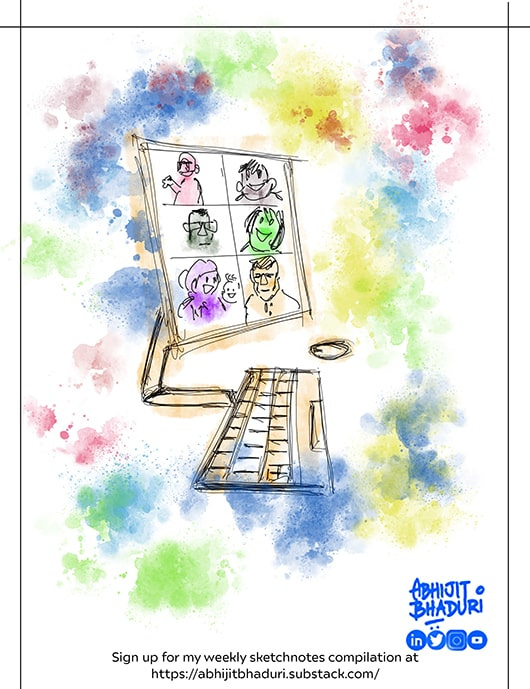 4. TikTok is for Sale
Microsoft wanted to buy TikTok and now there is Twitter who is shopping for the video sharing app owned by the Chinese giant Bytedance. Both want it for the data that it could provide about Gen Z and Millennial users - both very large segments. The geo-political tension between US and China is leading to trust issues. Bytedance wants to show it is an "American" company. Will TikTok erase the data backups they take in real time which are stored in China. It matters even more because Microsoft does a lot of work with the US Government. There is an executive order to block all business with ByteDance by mid September 2020. The clock is ticking …
Do you think setting the headquarters in US would make TikTok an American company? Would you recommend that? Leave a comment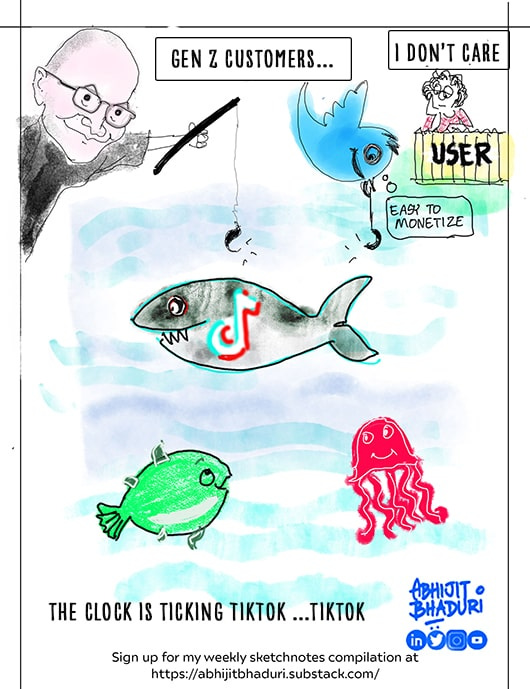 5. Can being a writer pay your bills? Yes…
I was so thrilled to have a16z tweet my #sketchnote capturing this fabulous podcast episode. It answers the question, can you earn a living as a writer/ fitness coach/ dancer/ personal shopper …? Would you, yes you pay $5 a month /Rs300 a month to pay these entrepreneurs in return for say 3 exclusive pieces of writing or music or standup comedy or fitness lessons from your absolute favorite podcaster or self-employed person? Today when we buy a magazine you are paying to read one or two good writers and flip through the rest. It is like buying a CD or tape where you like just one song? Please leave your response.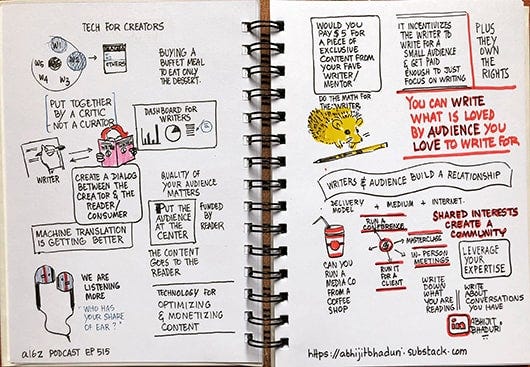 If this is your first week as a subscriber, do let me know what you think of the newsletter. Please do share it with your friends and colleagues by clicking the button below
You can email me at abhijitbhaduri@live.com and I promise to respond. Follow me on social media @AbhijitBhaduri
Please do invite a friend and help us grow. I am grateful for every recommendation. Just add the email and get this newsletter free in your mailbox. If you don't like it, hit unsubscribe … It is simple. See you next Monday at 9:00am IST. Thanks